STANDARD INSTALLATION INSTRUCTIONS FOR HOWARD'S HORNS DYNAMIC DUO, DUAL TRUMPET AIR HORNS

THIS BRACKET AND INSTALLATION WILL NOT WORK ON ULTRAS WITH FAIRING LOWERS
After a run in with an old lady pulling out on me, and my stock Harley horn only occasionally working when I'd press the horn button, I finally decided to buy a decent air horn. I searched around and decided on going with a well known name - Howard Horns.
Living in Florida, I'm always worried about someone pulling out on me or changing lanes. I wanted something that they not only could hear, but would startle the crap out of them to get their attention.
Somewhere, someone told me that Howard's Horns had a decent Scratch & Dent sale. They don't sell them online, but rather, you call and ask what they had. I asked about the Dynamic Duo, dual air horn set. They had several sets and the man noted that I would be hard pressed to find the nick, scratch or ding.
The Dynamic Duo lists for $150, but the Scratch and Dent price was $105.
They ask you to send a certified check made out to a person and send it to a residential address - on a lake. Owner maybe? Non taxable maybe? :-) When you tell them that you'd like to take advantage of this offer, they mark the set with your name and wait for the check, then send it out.
I got the horns shortly thereafter. The guy at the company was right. I had to really look hard to find the scuff. It was located on the back side very close to where the trumpet blends with the manifold, but I one will ever see it - including me.
IMPORTANT: ALWAYS DISCONNECT GROUND BATTERY TERMINAL PRIOR TO DOING ANY WORK ON BIKE!

Disconnect both positive and ground wires from stock horn.

Using a 7/16" socket, remove complete horn assembly (cowbell). Remove stock horn from under cowbell. Place chrome horn cover on soft towel to avoid scratching while working. Install clear tubing and stainless hose over compressor exhaust fitting - ALL THE WAY UP. (HINT: If having difficulty, expand with needle nose pliers.) Slide hose clamp over end of stainless hose and tighten hose clap with a screwdriver. Place 3/4" x 5/16" bolt in compressor; now slide bolt and compressor into stock chrome horn cover. There are 3 holes in cover, USE THE TOP HOLE. (PICTURE 1) Once compressor is installed, it will NOT be visible. Attach hanging strap on ¾" bolt, attach 5/16 lock washer and 5/16 nut, and tighten. (PICTURE 1A).
Taking the old horn off was a breeze. You take the cowbell cover off, remove the rubber vibration mount, take the horn out and bolt the new compressor into the cowbell.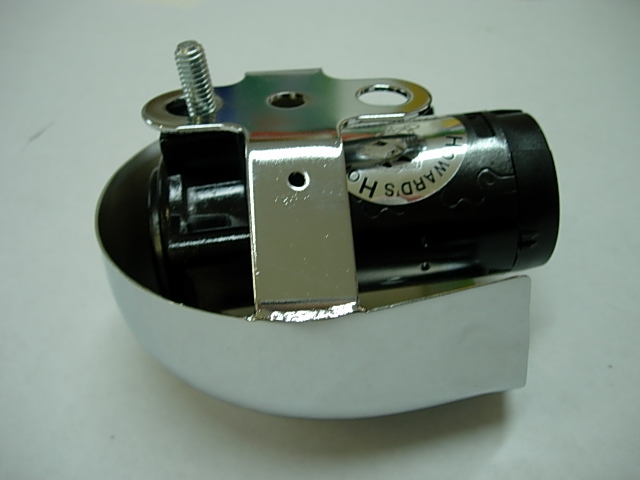 You secure the stainless steel braided hose onto the compressor
.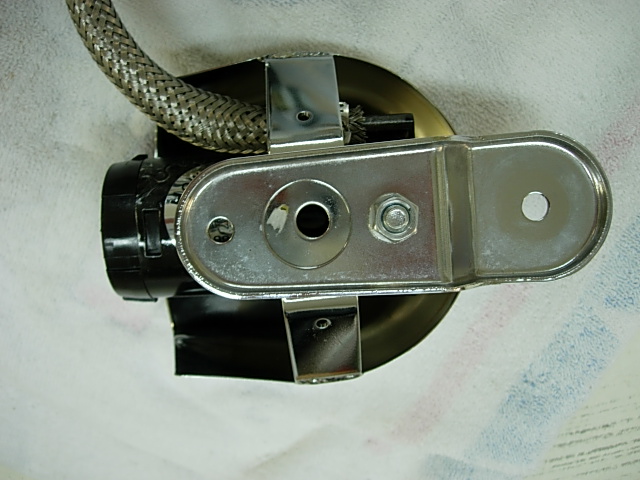 On carbureted bikes, disconnect choke from stock horn bracket by loosening nut behind bracket, let choke hang until our new bracket is installed.

Remove threaded rubber isolator from gloss black horn cover bracket using vise grips and turning counter clockwise.

If you cannot remove rubber isolator there are two options: 1. Remove complete horn bracket from upper motor mount, place bracket in a bench vise for better leverage. OR 2. Purchase additional rubber isolator from your Harley dealer for a few dollars, Harley part # 69123-92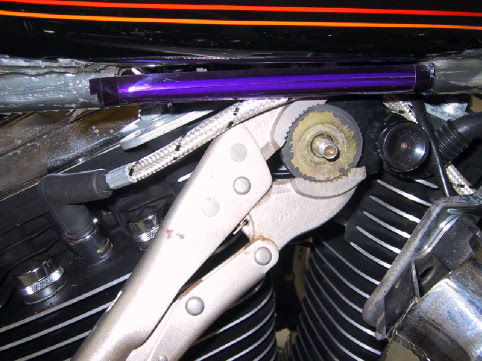 Attach rubber isolator to right side of our bracket (see picture #3) using ½" socket and our 5/16" bolt and lock washer (enclosed). The horn cover with our compressor (PICTURE 1A) inside will be installed on rubber isolator next. The rubber isolator fits between our bracket and the horn cover.

Attach our bracket to HD bracket using our ¾" long bolt and lock washer. Be sure to use BLUE 242 Loc-Tite for securing bolt. If assembly is too close to gas tank, add washers behind our bracket to shim out, BLUE 242 Loc-Tite is a must.
On carbureted bikes, slide choke cable into center slot and lightly tighten nut to back side of bracket.

Attach dual trumpets to the backside of the front arm of our bracket with the two 1" bolts, 5/16 nuts and 5/16 lock washers.

BE SURE to first place second stainless hose clamp on stainless hose BEFORE attaching it to chrome air fitting, or it will be quite difficult to remove hose from barbed fitting.!!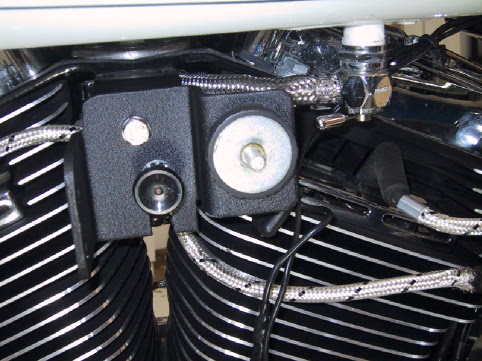 Final step is to mount and wire relay under seat. Refer to the RELAY WIRING DIAGRAM (Click here for PDF)

DO NOT RE-USE HARLEY'S EXISTING NEGATIVE (ground) WIRE. RUN A 12 OR 14 GAUGE WIRE FROM THE NEGATIVE SIDE (-) OF THE COMPRESSOR TO THE NEGATIVE POST ON YOUR BATTERY. LEAVE ENOUGH SLACK IN WIRE FOR BIKE FLEX, TAPE OVER THE END OF THE STOCK WIRE THAT YOU REMOVE AND MOVE IT OUT OF YOUR WAY. RE-ATTACH WIRE TO POSITIVE (+) MARK ON BOTTON OR RELAY. (see enclosed wiring instructions for relay)

Re-attach your battery ground cable and THAT"S IT!!!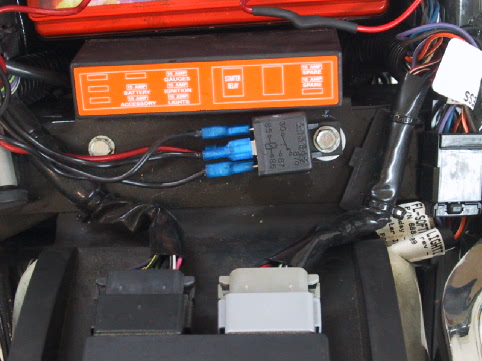 The trick however is the hide all of the wiring. You have to tap into the power source from the old horn that ran up to the switch. This power source now acts nothing more than a trigger to feed a pure power source directly from the battery to the horn. The real trick, that isn't discussed at all, is the make sure that all wires are secure, will not rub on the many vibrating parts connected near the engine, run them past the fuel shutoff, close to and under the gas tank, back toward the battery where I drilled a hole in the plate. I added a rubber grommet to make sure where was no possible way of a short. You basically have a heavy duty power source that is UNFUSED that runs between the battery and relay. I feel that this is a problem area and I'll add my own water-proof marine grade fuse to eliminate the possibility of a shorted connection. The factory reluctantly told me that I would want to use a 30A fuse. I couldn't believe that there was no fuse for such a high end horn.
It took many hours to do the job right and the job was far from easy if you want to do it right. I shielded a great deal of the wiring in and around the motor area in heat shrink tubing to avoid the possibility of a short and to hide the various color wires.
So how did they sound? Click here to listen.
They are AMAZINGLY LOUD. The loudest I've heard to date. They are so loud they do as I had desired - they startle people if they don't anticipate it - and they almost always do. I rarely hold the horn on. It's LOUD I tell you.
The only problem that I have is that there is a lot of vibration on the horn itself. The horns stick out about 12" looking forward, are mounted to the engine, so you can imagine how the small vibration at the horn mounting point translates out 12 inches. On the highway, the horn appears smooth, but at certain RPMs, the tips of the horn are shaking at least 1/4 inch. It's very obvious that they are really shaking at some RPMs. This would be the case with other horns mounted as such. It just seems that they would be better off being mounted to the frame to reduce vibration.
The compress truly hides the on demand compressor. It is instantaneous. All in all, I"m impressed with the quality of the horn. The instructions could be much better as they did not reflect my bike. The lack of a fuse is a real problem, but one that I can address. For the money, you can not get a better horn. I highly recommend the SCRATCH and Dent Sales.
Parts List:
Dual trumpets

Compressor

Powder coated bracket

2 ea - 5/16 x ¾ bolts

2 ea - 5/16 x 1" bolts, for mounting trumpets to bracket

5 ea - lock washers

4 ea - 5/16 nuts

2 ea - stainless hose clamps

13" braided stainless air hose

1 ea - relay and instructions
Paper info slip: "DO NOT USE STOCK GROUND WIRE"

Hints:
Wiring of the relay is MANDATORY for maximum loudness of horns.

A good battery is a must, we recommend either a sealed Harley or Odyssey battery. If your bike is a year old, your battery is at least a year and a half old.

DO NOT remove 90 degree air fitting, you will destroy threads and void warranty.

We recommend that you use BLUE 242 (NOT RED) LocTite on all your 5/16 bolts.

Make certain the 10 stainless screws on back of trumpets are tight, use BLUE 242 on these screws also.

RED LOCTITE has been used to secure the two trumpets to the sound unit manifold. DO NOT attempt to remove trumpets, this will destroy complete horn and void any warranty.